Our facilities are designed to help our patients feel comfortable, relaxed and right at home while receiving superior care. As part of our commitment to excellence, we use unique treatment protocols, including advanced beam alignment and shielding techniques, which help minimize the radiation doses to the nearby lung and heart tissues. All our patients receive computerized treatment planning to help ensure successful outcomes.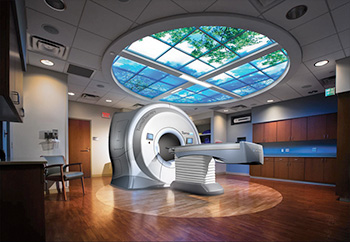 Cancer HealthCare Associates is proud to announce our new Oncology Center in Miami Shores that will be opening December 2012. Our new center will be equipped with our current brachytherapy services along with an Accuray Tomotherapy Unit Hi-Art HD, the most advanced form of image guided IMRT.
The new Cancer HealthCare Associates Oncology Center provides patients with advanced treatment in a comfortable, state-of-the-art facility. At Avenutra Hospital, we have both oncology and urology teams on staff and an oncology facility at Memorial Regional Hospital South.
Our Aventura offices offer personalized care from an expert team of physicans. The oncology team located here includes Dr. Martin Keisch, Dr. Daniel Weingrad and Dr. Enrique Davila. Our urology team has offices in both Aventura and Hollywood. The team includes urologists Dr. Jay Kim, Dr. Giridhar Talluri and Dr. Maurice Strahlberg.
Cancer HealthCare Associates is proud to announce the opening of our state-of-the-art Oncology Center in Miami Shores. Our new 8200 sq. ft. location houses a full serice radiation treatment facility with TomoTherapy HD linear accerator, Brachytherapy, Lymphedema Massage and a Hologic Bone Densitometry System. The only facility of its kind in South Florida, we are also the only local cancer center offering the latest TomoTherapy radiation treatment.
The Miami Brachytherapy Center has been moved to the new facility from the University of Miami.
The site offers convenient free parking in front of the building.
Following are comments provided by some of Dr. Keisch's breast brachytherapy patients:
Maria Diaz, Hialeah, FL
I thank God and Dr. Keisch every day for giving me a second chance. Dr. Keisch is marvelous, and I will follow him wherever he goes. I went to another hospital and they wanted to perform surgery, but my daughter insisted I get a second opinion. Dr. Keisch gave me radiation therapy and saved my breast. I am eternally grateful to him. May God bless him.
Debbie Arbelo, Hialeah, FL
Dr. Keisch always made me feel as if I was a partner and a participant in my medical care, not just a patient. He did the MammoSite, and everything turned out very well. Through it all, Dr. Keisch always made time to listen and answer all my questions. He was very down to earth, and he didn't talk in terms I couldn't understand. Just as important, he has a wonderful sense of humor, and I never left his office without a smile. It means a lot that he could make me laugh during such a difficult time in my life. His office staff members are great too, and they had a very positive impact on my life.
Jane Gross, Miami Beach, FL
The brachytherapy allowed me to be finished with treatment in one week instead of 6 weeks of daily sessions. That meant by Thanksgiving instead of New Year. It was over so fast and the holiday season was joyous to say the least. Dr. Keisch is not only a competent, cutting-edge radiologist, he is a kind and compassionate man with a great sense of humor who instills confidence and as much information as you want. He is a rare combination of medical excellence and personal warmth. I highly recommend his services.
Jose Lacera, Miami, FL
I have only good things to say about Dr. Keisch and his staff. The quality of the care is superior, and I always felt I was in the best hands. The entire team is professional, dedicated, and gives personal attention. They go out of their way to make sure that all your questions are answered and make you feel comfortable.
Gerard Attardi, Plantation, FL
Dr. Keisch saved my life. I had been going to a Urologist for a few years who kept giving me biopsies and kept telling me I was okay, and when I finally got to Dr. Keisch I found out I actually had prostate cancer, so I went ahead and did high-dose radiation with Dr. Keisch. That was more than five years ago, and I haven't had any problems since then. I have met a lot of doctors in my years, and there are many few of them I feel I would recommend. However, I would recommend Dr. Keisch to anyone. He's very thorough and precise, and he's a great doctor.
Leon Srebrenik, Surfside, FL
Dr. Keisch is a great doctor. He's very thorough, and he has very good bed-side manners. He's very caring and compassionate with his patients. I will follow him wherever he goes.